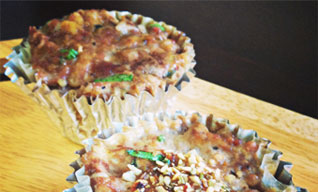 RECIPE: Morning Maca Sausage Muffins
Described as "Bizarrely Delicious", all of my clients have these on their weekly must have list. My Breakfast Sausage Muffins are so popular that I chose to make them as part of my Real Food Con Video Segment that comes out in just 2 short weeks!
They are also wicked easy to make and perfect for planning ahead as you can make a full tin on Sunday for a quick grab & go breakfast during the week. The obvious additional upside to making your own sausage is that you get control all the ingredients that go inside your recipe instead of worrying about hidden monsters in the store bought packages.
Made with Maca for an extra little pep in the AM – totally optional, and as with any/all supplements you should do your own research. I mean, what do I know? I'm just the driver, I mean Chef. <moviequotealert!>
Enjoy!
Morning Maca Sausage Muffins 
1.5 lbs ground pork
1/4 cup maple syrup
1 tablespoon maca
1 tablespoon cinnamon
1/4 tablespoon nutmeg
1/4 teaspoon ground cloves (optional)
1 egg
½ teaspoon salt
Mix all ingredients by hand until the moisture from the egg and maple syrup is absorbed.
It will start out very wet then go sticky.
Place in muffin tin, lined with papers or silicone molds
Bake at 350 degrees for 20-25 minutes
Let cool before removing from tin
Seriously, let them cool!
And, boom. You have breakfast for the week!