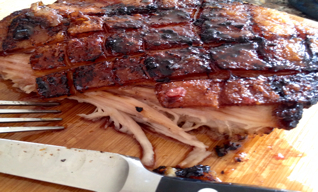 RECIPE: Pomegranate Pork Belly!
Alright, guys. Here it is! I've teased you enough with the photos on intsagram and have promised that tackling pork belly at home is easier than you think. Ready, Set…Dominate!
Pomegranate Pork Belly
1.5 lbs of pork belly, skin on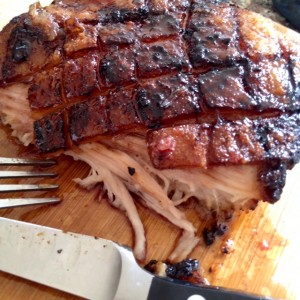 ½ tablespoon of salt
½  cup of pomegranate molasses
2 tbsp of water
½ lemon, juiced
2 garlic cloves, finely minced
½ cup coconut sugar
*If you don't have access to pomegranate molasses you can mix ½ cup of pomegranate concentrate/juice with ¼ cup honey
Lay your pork belly out, and take a good look at it. You are about to dominate this intimidating cut like a pro.
Score the skin with diagonal slices, cutting through the fat; just to where it touches the meat. Scoring Tip: If you place in the freezer for a few minutes it makes scoring a lot smoother.
Rub the salt across the top evenly, and set it aside to create the brine.
Brine: Here's the deal, you don't HAVE to brine it but extra care goes a long way. This is also solid dating advice.
In a deep and wide glass dish (larger than the pork belly slab), pour the pomegranate molasses.
Stir in the lemon juice, water and garlic mince.
Lower in the pork belly, skin side up, allowing only the meaty section to be immersed into the mixture.
Let it chill out in the fridge for a few hours. More is better but I understand impatience so try to let it be for at least 2 hours.
After the brine process, rub coconut sugar onto the skin, get it into the cracks.
Next up, you can go 1 of 2 ways:
Oven Method
1. Line another baking dish with foil. This is going to get sticky and messy in the oven so you'll be thankful you followed this step.
2. Slowly cook you pork belly in the oven at 250 degrees for 4-6 hours, watching it until it begins to tenderize.
3. At hour 6, take it out of the oven and spoon some of the mixture onto the skin.
4. Place it back into the oven and crank it up to broil for 5-10 minutes. Since I don't know the power of your oven, WATCH IT CLOSELY, you are 'cracklin' the skin but don't want to burn it.
5. Take it out of the oven, it should be golden, and crisp and calling out your name in foreign languages.
6. Eat. Your. Face. Off. aka serve it as you wish.
Slow Cooker Method (Fool Proof)
1. In the bottom of the slow cooker, pour the brine up until the point which you can place the pork belly in without the mixture touching the fat
2. Slow cook for 4-6 hours, or longer if on low. No worries on burning here. In fact it's only going to get moist as all hell and be amazing.
3. Follow Directions from Oven Method steps 3-6 in a baking dish for the broil/crackling steps.
Let me know how it goes for you and don't be afraid to play with the seasoning/marinade to suite your own palate.
Trust your gut,
xoM