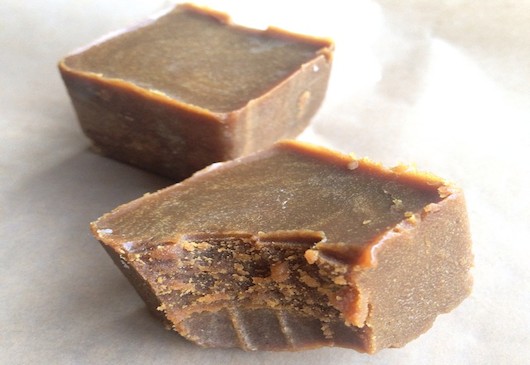 RECIPE: Phat Fudge, Finally!
You asked for it, I turned it into a product:
CLICK HERE BUY (UPGRADED) PHAT FUDGE SQUEEZE PACKS HERE. 
So I write this ebook for you guys and here I am being VERY technologically challenged. I couldn't feel any sillier as I wait for help to come – I tried to do a hack job last night and kept coming up short (code). Get it? #notactuallyfunny
A lot of you signed up for my newsletter AFTER I sent this recipe out and some of you didn't sign up in time for the SECOND email I sent out. #slackers
So here you go below, with a preface or two:
Number 1: There are many versions of Phat Fudge I make for clients based on their particular functional need. I chose to share the #UnicornFuel version of this recipe with you because I learned that the original #UnicornFuel coffee recipe was nominated as "Best Coffee Hack" of Paleo Magazine's "Best Of 2014".
WHAAAAAT?!
Pretty cool, right?
Fun and Functional go together in my life and you guys RAN with my recipe on social media.
I mean, some of you even conjured wild Unicorns!
Thank you all very much for the nomination and votes. I wonder if we won. (Yes, WE. This is a team!)
Number 2: Back to the ebook, I want to thank you SO freaking much from the bottom of my gut for asking me to create this product for you. It was a collaborative effort with Beta Readers to make sure I only included what you needed to 'try on' #eatplaycrush. The 5-Day plan includes Functional Meals, Guided Meditation, Movement (HIIT Training), Journaling and More!
I think my favorite piece of feedback so far was this:"Mary, I devoured the ebook! Good freaking stuff! Got my "HFF" tattoo booked. (small of back?)" 
That was from a Dude, btw!
Hilarious, but sorry, someone already beat you to laying down some ink:
Help comes for me and my ebook (and the TANK TOPS) on Friday so Thank You in advance for your patience. If you want to be sure you're notified when it's all available make sure you sign up for my newsletter.
NUMBER 3: #UNICORN PHAT FUDGE RECIPE!!!!!! *said in an Oprah voice*
Finally, Mary. Sheesh! #windedstoryteller What is Phat Fudge exactly? Well, it's my "GU" replacement. Whether starting my morning with a cube for wicked focus or taking it with me on the tennis court, I cannot live with my Functional Fudge. 
Instant and sustained energy, memory and focus, anti-inflammatory, sugar control and a natural thermogenic, each of these ingredients are deliberate. A serving is about 2 tbsp (1 ounce) and soon will be available for sale in squeeze packs, with a slightly modified recipe to up the performance/endurance aide.  Stay tuned for that but in the meantime, here's how you can make it yourself! 
What You'll Need 
sauce pan
whisk  
Ingredients:
1 cup tahini (I use this kind)
1 cup grass fed butter or ghee
1/4 cup cacao
1 tbsp turmeric
1/2 tbsp cinnamon
1/2 tbsp maca
1/2 tbsp honey
1 tsp vanilla
1/8 tsp cayenne
What To Do: 
In a sauce pan, melt butter/ghee and whisk in tahini followed by the honey until it's all well mixed. 
Add the rest of the ingredients in no particular order and continue to whisk until you've got what I am now calling Unicorn Chocolate Sauce. 
Carefully pour into the ice tray BUT purposely leave a spoon or two for your enjoyment now. #whywait
Place the tray in your freezer and practice patience, perhaps even meditate. *wink*
It only take a couple of hours to set. It's only a couple of hours, hold your Unicorn! 
You can keep them in the tray and just pop them out when you're ready to enjoy.
***You must keep them stored in the freezer or refrigerator to keep shape***
Many of my clients will pop one first thing in the morning. Seriously, it's everything you need to start your day IN FUDGE FORM!! #yourewelcome
Additional Notes: 
I made these to be functional treats, eating the whole tray isn't totally advisable unless you leave out the maca because I'm not responsible for Unicorn Babies. Pssst, maca is known to enhance libido. 
In this recipe, I left out coffee for those who don't drink it. If you do want to add it in, I advise 1 tablespoon of fresh coffee grounds. The flavor and texture is 

BOMB

. 

When preparing these for myself, I also add 1 tablespoon of gelatin. 

And finally, GET CREATIVE! Using the tahini/butter base you can go MANY different directions with Phat Fudge. 
Do me a favor, if you guys make these be sure to hashtag #phatfudge and #eatplaycrush so I we can keep the street cred growing.