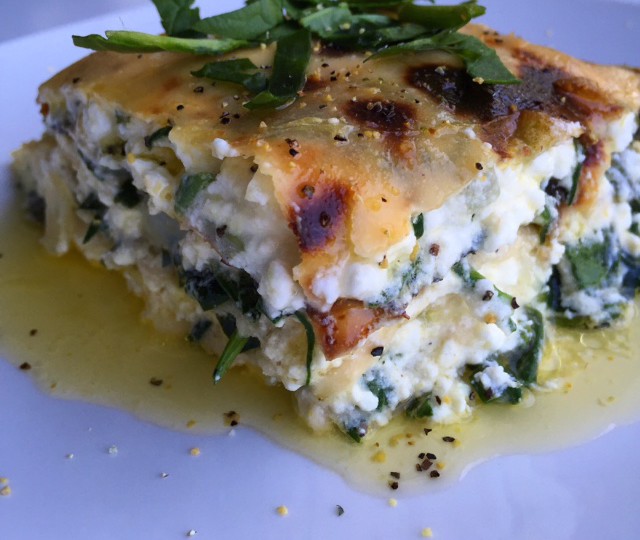 RECIPE: Grain-Free Spanikopita
I weep as I post this general guide to Grain-Free Spanakopita. Every 6-8 months I try cheese to see if my body has decided to rid itself of the intolerance. ONE DAY, I will mind over matter my gut to go face deep in a tub of fresh and creamy feta cheese.
I still make traditional spanakopita with phyllo for those that tolerate it because (thanks to my Mom) I make some award winning shit. This is not that exact recipe, for very obvious reasons. Somehow, I don't think you're going to complain about the one I'm giving you.
Approx measurements here as it has to do with your preference of ratios and how large of a casserole you're making. Don't worry if you end up over on cheese. It's feta. It's amazing. Make a salad with the leftovers.
If you like what you see in my feed, guys: Share. Tag friends. Use the #eatplaycrush hashtag. Make some noise. We're not effing around in 2016.
What you'll need:
coconut wraps
3 large cups of feta cheese, room temp
2 lbs of spinach, roughly chopped
1/2 diced yellow onion
2 large eggs
pepper
nutmeg
thick coconut milk (or full fat milk if you can tolerate that too)
@kasandrinos EVOO
1/4 cup butter or ghee, melted
lemon zest
What to do:
In a bowl, using your hands, mix the feta, eggs, pepper, nutmeg, & coconut milk until it's mixed well and formed into a paste/cream.
Optional: You can sauté the onions, then add the spinach to release some extra flava-flav but you don't HAVE to, I'm just saying extra flava-flav.
Next, in a casserole dish drizzle EVOO on the bottom, and lay down a sheet of @juliansbarkey coconut wraps.
Layer in ze cheese, followed by a layer of spinach/onions
You can build this out wide, across a big dish and then slice and stack on serving like in this photo
OR you can just build it out high, your choice.
BUT, you repeat the layering process until you end with a sheet on top
Brush it with some melted ghee/butter
Cover with foil and baked at 300 degrees for 15-20 minutes
In the last 1.5 minutes, uncover & turn to broil to caramelize/brown that top layer
It's going to happen FAST so don't turn your back on the oven
Garnish with some more spinach + drizzled butter + lemon zest + black pepper.
Take a bite. Weep. And repeat.