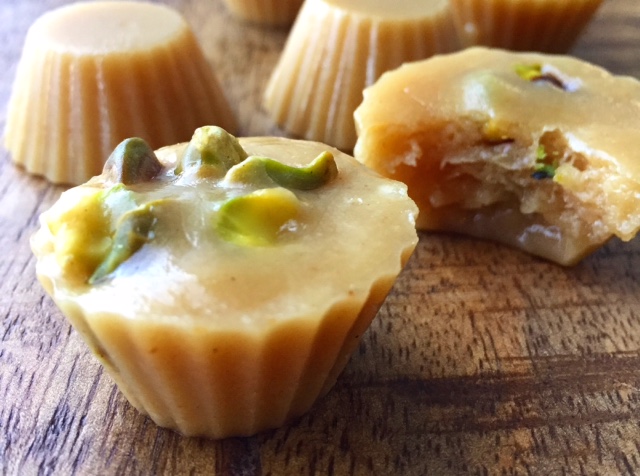 RECIPE: Tahini Ginger Chews
As seen on Instagram:
? and "tahini" ginger chews.
Remember these from my feed way back when? ? I used to make these by the jar full, sometimes strictly for sweet tooth needs and sometimes with Alpha Brain and MCT oil for special clients. ?#nonamedropping Today, just sweet pleasure whilst I watch the game.
Made 3 ways: Plain, Walnut, and Pistachio.
SUPER easy to make, and this was the phase between Unicorn Fuel and Phat Fudge. I messed up batch of chews/halwa and turned it into solid formed Unicorn Fuel when I thought, why not throw in all the ingredients? Later, per the need of a professional athlete client, dropped the honey, increased the fat (added butta) and voila Phat Fudge was born. You follow? ?Ha.
What you need:
1/2 cup honey (I use this kind)
1/2 cup tahini (I use Kevala)
1 tsp ginger powder, +/- depending on your spicy preference
1/2 tsp vanilla
Any mold of your choice (this is the one used in the photo)
That's it.
What to do:
In a sauce pan, heat up the honey until it bubbles up, almost to the point where you're having anxiety about burning it too much. Good explanation, yes? It will look like the pot is mostly bubbles/foam.
Pour in the tahini, vanilla and ginger and whisk really, really well.
Precise vanilla and ginger amounts are up to you. I like it SPICY so hecka ginger goes in.
Once whisked, switch to a large spoon and continue stirring over medium heat until it thickens.
It will begin to separate from the pan as you stir into a thick paste.
Spoon or pour into any mold your heart desires.
Stuff in nuts of choice.
Place in the freezer for at least 2 hours for the chews to "crystalize" giving it a very unique chewy texture.
You're basically breaking it up before it turns into Halwa (middle eastern dessert) which requires a 36 hour cold/covered environment.
To store, you can wrap them in wax paper then store at either room temperature or keep them in the fridge. Note, if you keep them wrapped at room temperature then it's EXTRA important that you freeze them for the 2 hours (at least) recommended in this post.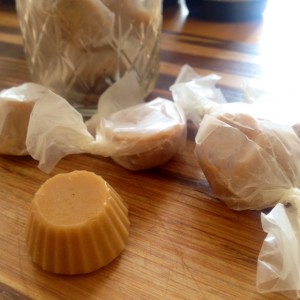 As always, get creative. Make it different flavors. Add coffee grounds. Add fruit. Add nuts. Dust with sugar. Have fuuuuuun!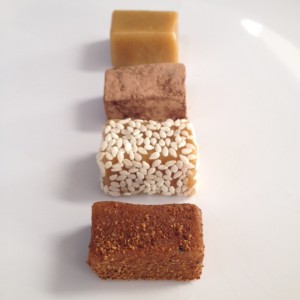 Reminder, if you ever LOVE an Instagram caption or recipe post, a lot my posts spontaneously turn into blog posts on paleochef.com thanks to the help of magical scotch-fueled unicorns so you can easily bookmark/share without losing it in the feed.
Haaaa. Get it? Feeeeeeeding your mouths and mind one sassy post at a time!
Alright, back to the second half. Late! ✌? #eatplaycrush
See original Instagram post here: