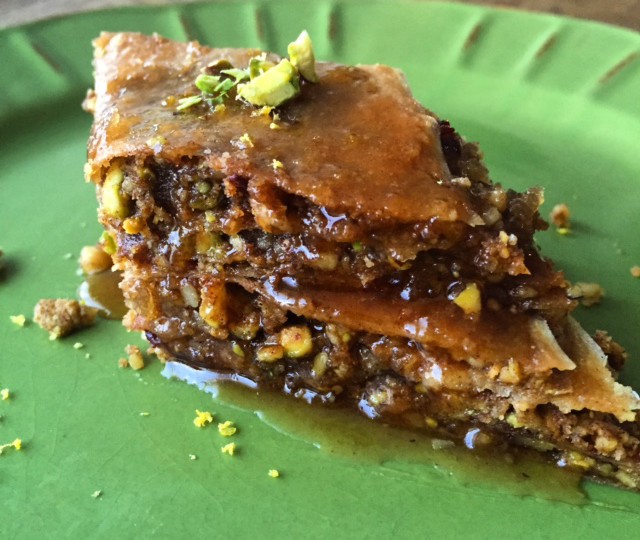 RECIPE: Grain-Free Baklava (Paleo)
I know, right?! I've been missing Baklava SO much. I first made this about 3 years ago for myself and really wonder why I never shared this with you.
Forgive me? *wink*
Here's the deal, this is for a modest serving of baklava. Roughly 20-22 pieces depending on how large you cut your diamonds.
I say that's a modest amount because baklava is typically made in LARGE trays, I'm talking 70-100 pieces at a time. Egyptians are all about celebration and feeding you long after you've told your Auntie several times that you're not hungry.
You can play with the amounts in this recipe to make more, layer it higher or whatever you want.
Personally, I prepare it thin (like this recipe) and then stack 2 on top of each other for height when serving.
Between this, the Persimmon PieCaken and sharing my grain-free spanakopita recipe, which my casein-intolerant self can't even eat, I'm feeling like this guy: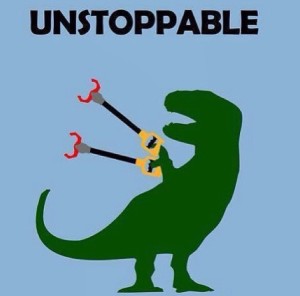 All jokes aside, these recipes, the ones that have a cultural link to my childhood, are deeply personal so I hope you enjoy them.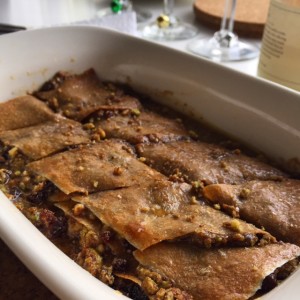 What you'll need:
1 cup coconut sugar
3/4 cup water
half a lemon, squeezed
lemon zest
1/4 teaspoon ground cloves
7 sheets of coconut wraps, like these
1/2 cup melted ghee or butter
1/2 cup walnuts, chopped finely
1/2 cup pistachios, chopped finely
1/3 cup raisins, chopped finely
1 tablespoon cinnamon
1/2 teaspoon ground vanilla
another 1/2 tablespoon coconut sugar
another tablespoon of melted ghee/butter
What to do:
In a saucepan, mix the sugar and water over a medium heat until the sugar dissolves.
Add the lemon and cloves then leave it to simmer, mixing it occasionally for 7-10 minutes until it starts to thicken.
Turn off the heat, add some lemon zest and let it cool. This is your 'honey syrup'.
Preheat oven to 280 degrees (this is lower than a typical baklava recipe, fyi).
In a bowl mix, the walnuts, pistachios, raisins, cinnamon, vanilla, coconut sugar and ghee together. *The chopped finely instructions count and are important towards the texture I wish for you to achieve so don't be so lazy. Chop chop! Or use the Vitamix.
Brush the base of your baking dish with melted ghee/butter.
Lay down one coconut wrap (phyllo replacement) and brush it with melted ghee and honey syrup.
Lay down a second coconut wrap on top of that and press down firmly. You can get away with just one wrap, but note that 2 wraps per layer give it a little extra firmness at serving time.
Brush the double (or single) layer with more ghee, spread a layer of the nuts/cinnamon/raisin mixture over that, and drizzle some of the honey syrup to finish it off.
Lay down your next layer of either single or double coconut wraps, repeating the steps above.
Your top layer will simply be a single layer of coconut wrap, brushed well with ghee.
You will have honey syrup leftover, we're using the rest of that later.
This is usually the step where you cut your baklava if you were using phyllo dough but we cut the familiar diamonds towards the end of the cooking time, when the coconut wraps have softened from the bake time.
Bake for 20 minutes on the low heat in the middle rack of your oven.
The top layer will start to look golden, take it out (around 15 minutes) and proceed to cut your baklava.
Spoon and brush some more honey over the top, getting it into the slice marks still saving some for later.
Bake for an additional 5-7 minutes, being patient to allow the honey to candy and crunch that top layer. The longer (and lower) you bake it, the more top-crunch you'll get.
Remove from the oven, pour the rest of the honey over the whole thing followed up by additional lemon zest.
Allow it to cool before separating the diamonds of goodness.