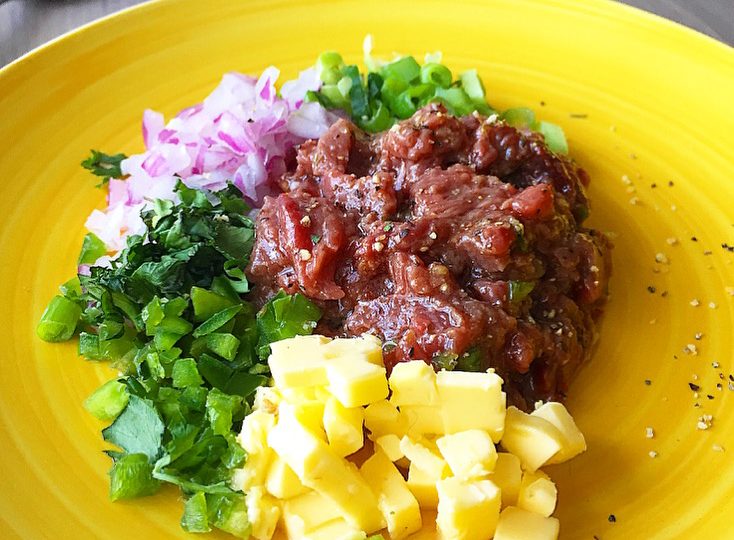 RECIPE: Bison Tartare
@fatburningman tweeted about my bison tartare which reminded me that I owe you guys a recipe-ish. All together now: Thanks, Abel!
I go through many different ingredients/versions of tartare depending on what I'm craving, but what always remains the same is the use of @thehonestbison's fillet mignon tips.
What you'll need:
4 ounces @thehonestbison mignon tips
1/4 tsp sea salt
1 tablespoon chopped grass fed honey butter*
1 tablespoon @primalkitchenfoods honey mustard marinade found at @wholefoods
1/2 tablespoon chopped green onions
1/2 tablespoon diced red onions
1/2 tablespoon chopped cilantro
1 teaspoon minced jalapeño, or less if you're not into the heat.
Here's what to do:
Prepare all your garnishes first, make pretty lil piles of them and set aside.
In a bowl, whisk the salt and pepper with @primalkitchenfoods honey mustard marinade.
Then, take your steak tips (COLD), and roughly chop them into lil' bits.Mix them into the bowl, coating it evenly.
From here it's up to you how you want to plate this dish, you can mix it all up; garnishes, honey-butter bits, and meat together. You can form your tartare into that classic circle and pile your garnishes separately all around the perimeter (scroll back in my feed a week or 2 to see an example), you can stack it, etc. At home, I don't get that fancy, I usually just mix it up or put it into a cabbage wrap.
That's it. Not as intimidating as it sounds as long as you choose high quality meat. I crave and eat tartare multiple times a week. If you end up doing this, tag me in it. I'd love to know how you make this your own. *honey butter, I have a block of grass fed butter that I lightly melted and whipped with raw organic honey then formed back into a block in the fridge. I do this with honey, pepper, garlic, turmeric, etc for added pop/flavor and good-for-me spices and good fats. #eatplaycrush