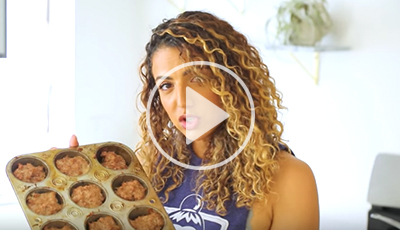 Mixed Makeup: Morning Maca Muffins
Ready for a @mixedmakeup video of me wearing a muscle tee (sans muscles), showing you how to make these Morning Maca Sausage Muffins? Well, me neither – but here it is!
Backstory: At one point, I had 8 (EIGHT!) weekly clients, busting out upwards of 100+ meals a day, all-in on the grind to slowly build my new business. Remember, I left corporate life to become a private chef just 4 years ago w/o culinary training and no idea how to start a business from the ground up. Well, no idea other than say yes to new clients and figure it out as you go along.
Anyway, I made these sausage muffins for a big time tech investor in SF after learning about his morning breakfast routine, which included sausages filled with a bunch of crap. He loved them. Then, my next client, a professional athlete loved them. And after that, a famous author loved them. And the list went on of love for these bizarrely delicious sausage muffins to where every single client requested them every single day.
I humble brag on the kinds of clients because for some reason some folks think food tastes better when it's also being fed to fancy people. Hey, whatever it takes for you to start eating with intention, and maybe even cooking for yourself works for me!
Fact: I "fire" clients after 6 months to a year so I can move on to inspiring someone new both with my food and my antics. Sure, I'll revisit to cook a fun dinner event or travel on their vacation to keep the crew happy, but all my clients know up front that our time is limited and I aim to give them the tools to know what to eat after I am gone. It's fun to inspire as many people as possible with my humble-craft because if I convince them, once I am gone, they are so inspired that they convince others in their lives that I may never meet. Mission accomplished!
So, yeah. Please visit the video. Peep the recipe in the video description on YouTube as well. Enjoy and inspire! Ole!
#eatplaycrush